Displaced Dogs During Hurricane Harvey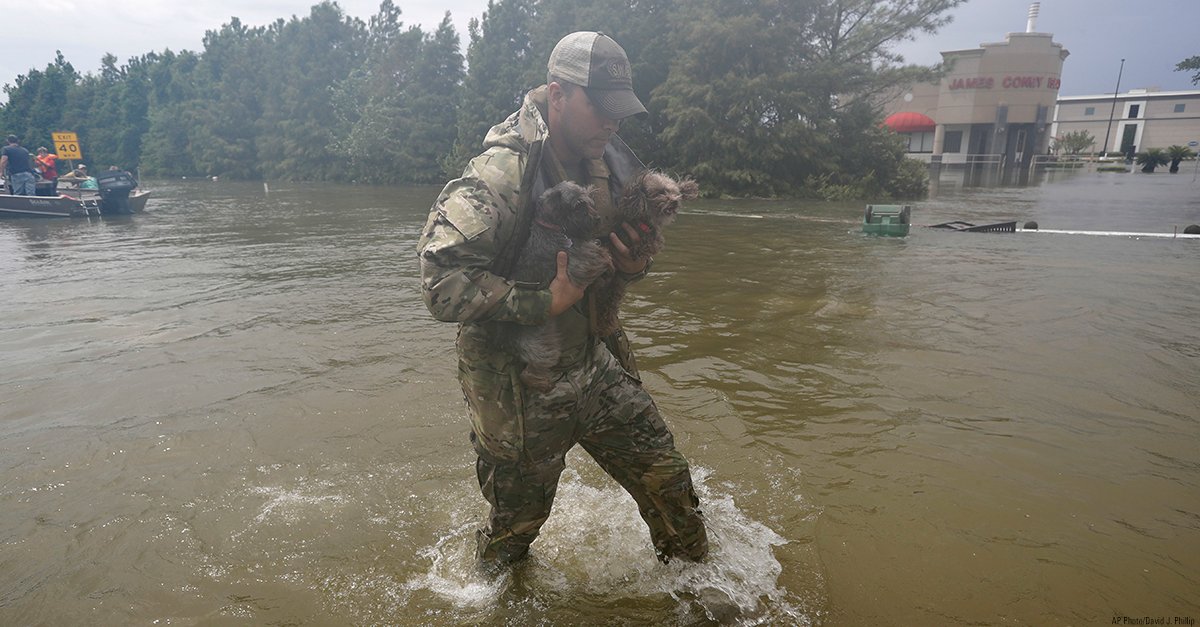 A rescue worker carries two dogs to safety after evacuating their family from floodwaters in Houston, Texas.
If you were ever considering bringing a new dog into your family, now is a great time to do so. All over the country, animal centers are taking in the animals that were displaced during Hurricane Harvey. With so many pets lost without any way of finding their old homes, you have a chance to give a pet a warm and welcoming place to stay. There are all sorts of fostering opportunities available too, so you can have a chance to learn about different dogs and whether you really want to invest a lifetime in one or not!
Dogs displaced by Hurricane Harvey
Just like in your city or town, there are many options available here in San Antonio, Texas where I live, to check out with dogs that desperately need a comfortable home to stay in during the restoration of our coastal areas!
San Antonio Pets Alive is a great option if you are wanting to foster a pet during the aftermath of Hurricane Harvey! They have opportunities for you to donate in other ways as well, which many animal shelters could use too if you can't take an animal in at this time. For more information on them check this site out! - San Antonio Pets Alive!
Another fantastic place to look for a pet at is the San Antonio Animal Defense League. They have been taking in pets that were displaced during Hurricane Harvey as well and could definitely use a hand! Fun fact about the Animal Defense League, they are a no-kill shelter, so they are always on the search to find the right home for their special dogs!

Here is more information on the

Animal Defense League

to check out!
There is always San Antonio Animal Care Services as well, and they generally have an abundance of dogs that could use a loving home, so if you are considering adding a canine companion to your family unit, definitely check them out, you could actually be saving their life. And having saved several in my time, those special ones get a huge place in my heart!
Here is the information page on how you can help the Animal Care Services out! City of San Antonio Animal Care Services.
JoeRaedle/Getty Image - Helping Out During Hurricane Harvey
I encourage you to take a chance and reach out to bring a new pet to your home. Not only will you be facilitating a life long opportunity to love and be loved, but you will be providing much needed relief to volunteers out there who are working so hard to give these animals the love they deserve!
Just keep in mind, when you save an animal that has been around for awhile, they have experienced life a little bit and they may have trouble with trusting people. Be patient with them, the more love and gentleness you show, the more they open up and really blossom into the adorable, devoted, loving pet you want!
Here are some other articles on how you can help the animals of Hurricane Harvey!
*If you like my blog please feel free to subscribe to my emails! You can also find and follow my facebook too at https://www.facebook.com/dogblogging/ for fun animal photos and videos that you are sure to enjoy!